Maldives for Non Swimmers
Have you ever imagined riding a boat in the vast and deep blue ocean that feels like actually walking over it? Or flying over hundreds of private islands enclosed by turquoise sea! Or can you picture yourself being surrounded by the sapphire sky, emerald waters and the whitest sand to spend romantic moments with your beloved on an exclusive island? Surreal 😀 , right? Well get ready to craft your own experiences in the sun kissed destination, "Maldives for Non Swimmers" with The Globetrotter Lady!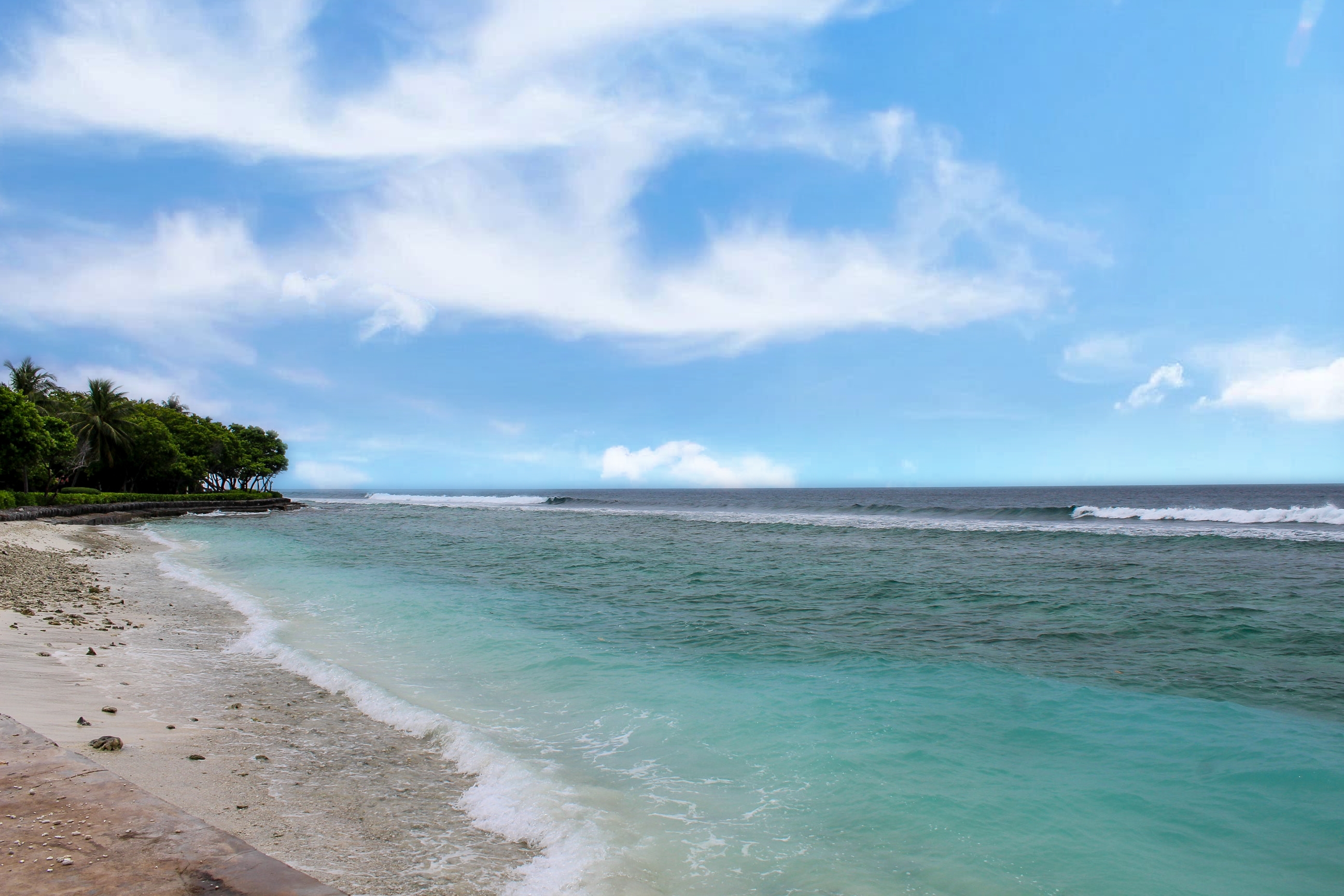 Believe it or not! Maldives has around 100 private resorts with inimitable beaches fringed by swaying coconut palms, astonishing water villas and crystal clear blue waters swarming with a diverse array of ocean life. It is one of the perfect destinations to enjoy an adventure-filled family holiday or romantic getaway for two 🙂
There are many  activities for swimmers to do in Maldives but in this blog I will discuss how non swimmers can also enjoy this beautiful beach destination and make their journey more memorable. They can enjoy activities like dolphin watching, flying in sea planes, glass bottom boat, strolling around immaculate beaches, sun bathing, wandering local markets, day cruise, romantic candle light dinner on private island, watching sunset while enjoying tantalizing local food and star gazing with some barbeque food. You can also try fishing or pamper yourself with rejuvenating spa. Without wasting any time let's starts the journey of Maldives and make sure you leave some space in your suitcase to buy some Maldivian souvenirs.
Activities for Non Swimmers
Let's discuss some of the most famous water activities for non swimmers to make your day even more happening.
**Activities and their cost mentioned below may get affected due to COVID-19 Pandemic.
Seaplanes – Flying in a seaplane over Maldives is an ultimate experience with spectacular views of islands, lagoons, and reefs.
Cost – US$250 one side, US$450 return (approximately).
Daytime only (09:00 to 15:30).
Whale Submarine – If you want to explore the underwater world while staying dry then whale submarine is the perfect option. You can book dolphin watching cruise by Dhoni(traditional boats) to enjoy mesmerizing life of 21 different species of dolphins and whales.
Cost : $85.00 USD
http://www.budgetmaldives.com/tours/submarine-tour-maldives/
Duration: 2 hours
Glass-Bottom Boat – You can watch marine animals and plants sliding away from right under your feet 😀 ! It is one of the best way (other than diving) to explore the beauty of underwater marvels, magnificent reefs and rare species of fish, turtles, sharks and much more!
Cost: $41.56 USD
https://www.viator.com/tours/Key-West/Key-West-Glass-Bottom-Boat-Tour-with-Sunset-Option/d661-5264GLASS
Duration : 2 hours
Private Dinning – Have you ever imagined yourself on an island that is exclusively yours? Well you can ask your resort to make all arrangements for dinning in the middle of the ocean for you 🙂 . You can also take a dip in the crystal clear water, once you have built up an appetite.
Parasailing – Enjoy this amusement activity of gliding through the air wearing an open parachute.
Island hopping – Take a boat or a seaplane for a day tour to another island. Each resort in  Maldives owns their own island.Island hopping involves an impressive view of Open Ocean! It usually includes transportation and lunch.
Spa – Maldives is synonymous with pure indulgence and luxury. Most resorts in Maldives offer a wide range of wellness facilities to help you unwind and rejuvenate the body, mind and spirit. Must pamper you with a range of sophisticated spa therapies and massages, passed on for generations as family secrets.
Fishing – Try traditional hand line fishing or Big Game Fishing at sunrise. You can also ask chef to cook your catch for dinner (available at additional cost).
Yoga – Maldivian island gives you a soothing view and a tranquil ambience, which is perfect place to begin or continue yoga and meditation.
Explore Local Island – Spend some quality time with yourself, the day is yours to plan. From barbeque to sandbank picnics, private exclusions to exploring island.
Sunrise and Sunset – Take in the spectacular sunsets from the middle of the Indian Ocean and enjoy picturesque opportunities with your loved once.
Try a Beer – In case of alcohol, beer always dominates for me. Heineken and Carlsberg are well-known brands, Tiger from Singapore is also an amazing beer, and Lion from Sri Lanka, San Miguel from the Philippines is also delightful. You can try any of them, it is just a matter of chance what your resort stocks in.
Shopping – No holiday is complete unless you have shopped. Or at least that is what many of us feel. Find out What to Buy in Maldives (below in my blog).
Games – You can also try sailfish, barracuda, swordfish, emperor fish, line fishing, etc.
How to Reach Maldives
This time I chose Maldives to celebrate birthday with my husband. We boarded a nonstop SpiceJet flight on 26th of June 2018 from Cochin to Male International Airport (Located on Hulhule Island) of duration 1 hour and 45 minutes. The flight was not at all tiring and it was totally scenic while landing. You will see a lot of small islands surrounded by beautiful shades of blue and green water.
Arriving passengers must fill in an Immigration form with passport details, Address in Maldives and proposed length of stay. Also check MANDATORY REQUIREMENTS FOR TOURISTS TO ENTER MALDIVES DURING COVID-19 PANDEMIC.
After the scenic flight, we hopped into a private and exclusive speedboat and headed to our resort Holiday Inn.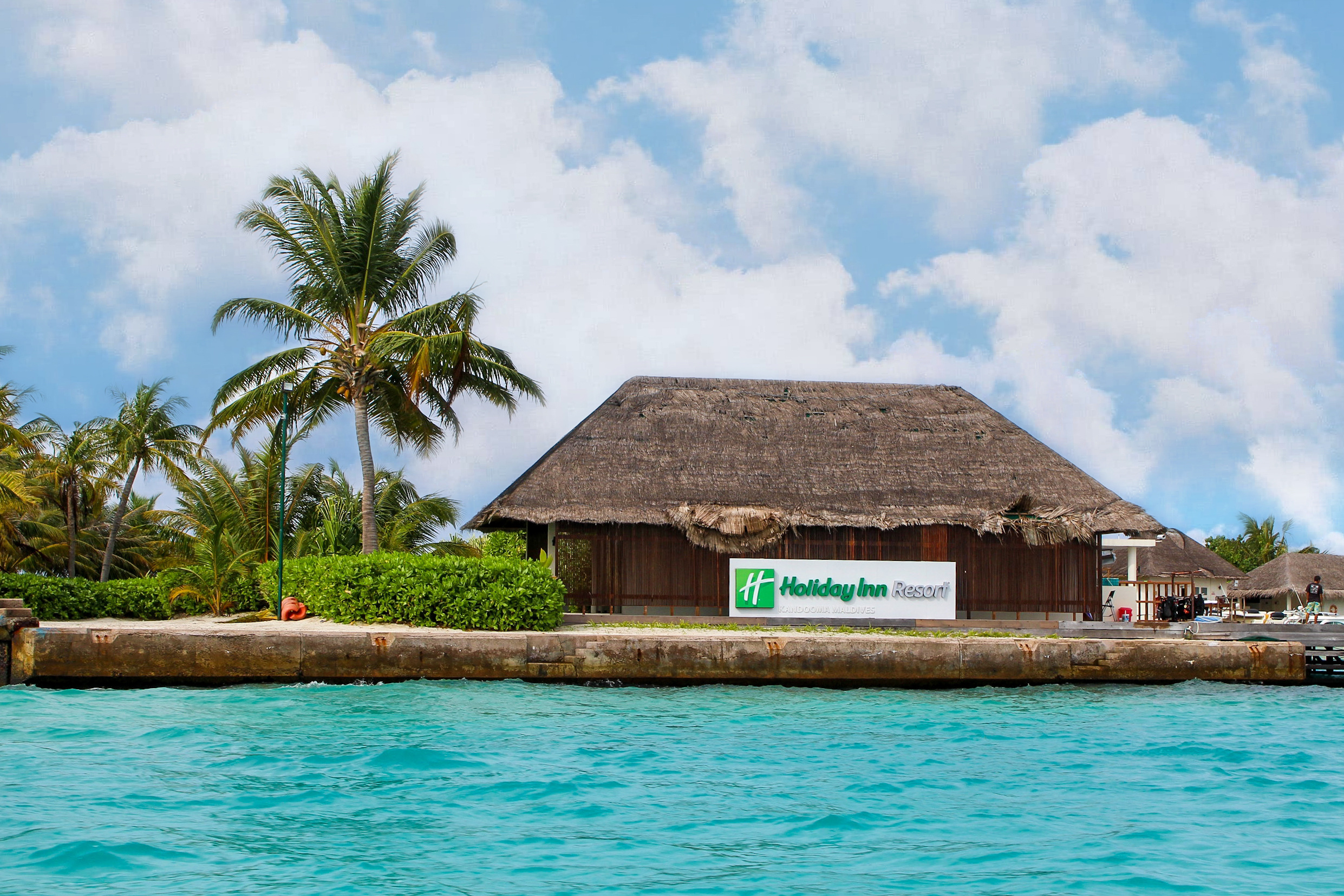 The resort was the lower end of the price spectrum.
Best time to visit
December – April: These months constitute summers in Maldives. There will be negligible rain showers and less humid during this time which makes it the peak tourist season.
May – November: Monsoon season that generally last from May-end to August. Few tourists prefer to come during this time as it is mostly wet and hence it is an off-season in Maldives.
Where to Stay
Accommodations for holiday travelers include guest houses, resorts and hotels or you can also opt for living aboard opportunities on the boats and yachts.
Maldives has two types of islands: private and public. The Public Islands are also called local islands (are generally occupied by local people) and the Private Islands (are usually occupied by luxury resorts, most of which are open to their guests and staff only). You will find many high-end resorts and can choose according to your choice. You can have a look of resorts in Maldives from the website: https://www.maldives.com/hotels-resorts/.
We booked Holiday Inn Resort (Garden Villa for the first day and Overwater Villa for the last two days) online for 3 days well in advance, which is located on Kandooma Island.
Holiday Inn resort has 160 villas in four different styles
beach and garden villas
beach houses
family villas
overwater villas
On the day of arrival, staff at resort reception provided us a pamphlet of daily activities going on with time and cost mentioned in it. Some of the activities were free of cost like kayaking, snorkeling, yoga sessions, playing Table tennis on the beach, exploring Kandooma Island, knowing about Maldivian tradition.
First day we just wanted to explore our resort and relax on the beach that is why we didn't do any activities provided by the resort. During sunset, we enjoyed a glass of beer which we grabbed from Beach Bar. We also played with sand and remembered our childhood memories. After dinner, we came back to our garden villa and slept well.
Next day after breakfast, we moved to overwater villa with a breathtaking view of sea.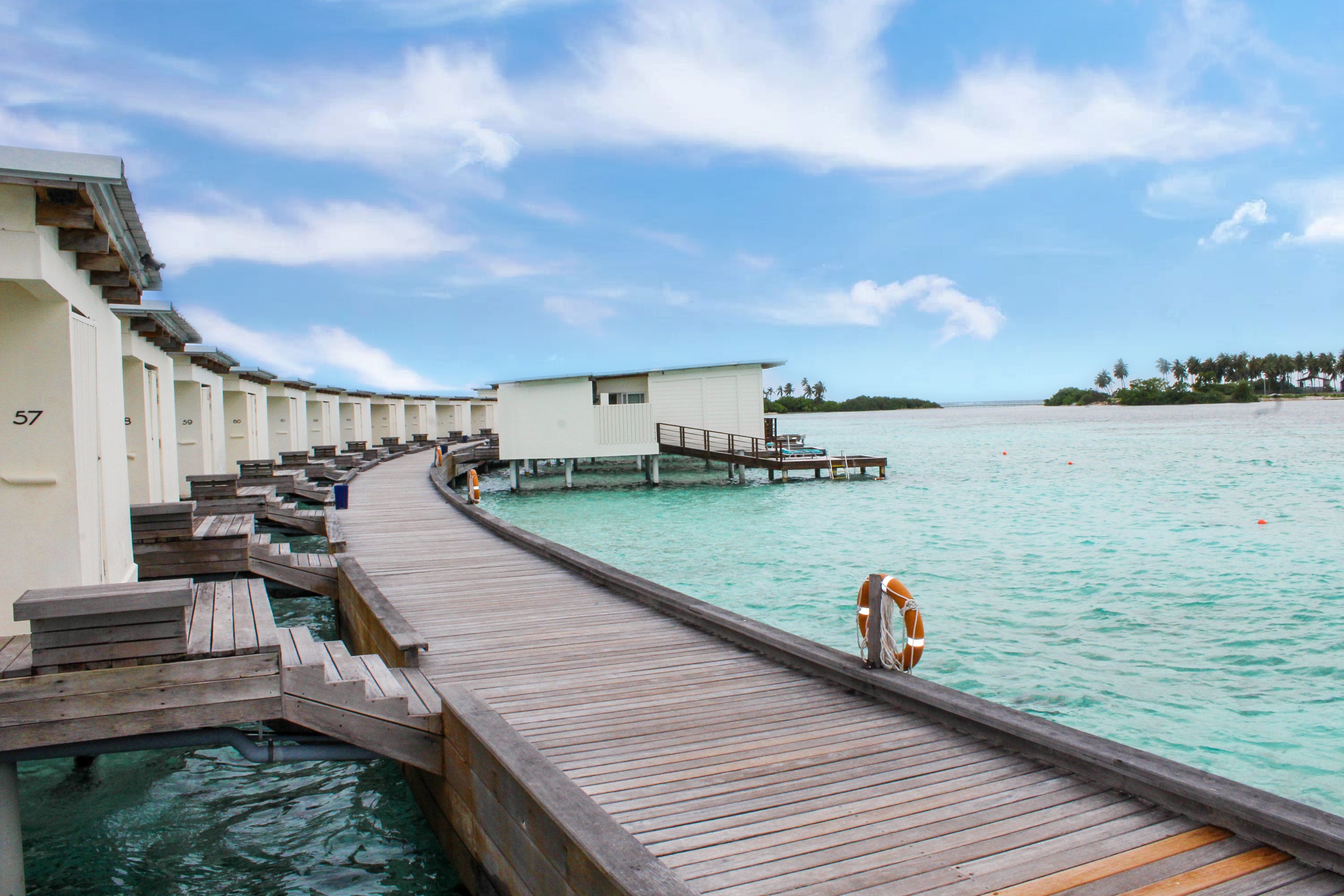 My room was decorated with flower petals and hotel staff presented a complimentary chocolate cake and a birthday card to me as a birthday gift. I was so overwhelmed to see my birthday decorations arranged by my husband and hotel staff on a secluded island.
The Overwater villa is bang for your buck here. The villa was well furnished with a king size bed, sofa set and a table, television, two air conditioners, cupboard, mini bar, balcony with chairs, indoor bathroom with a separate shower cubicle and outdoor bathtub with mesmerizing view of sea.
You can enjoy watching sunrise and sunset from the deck attached to the villa.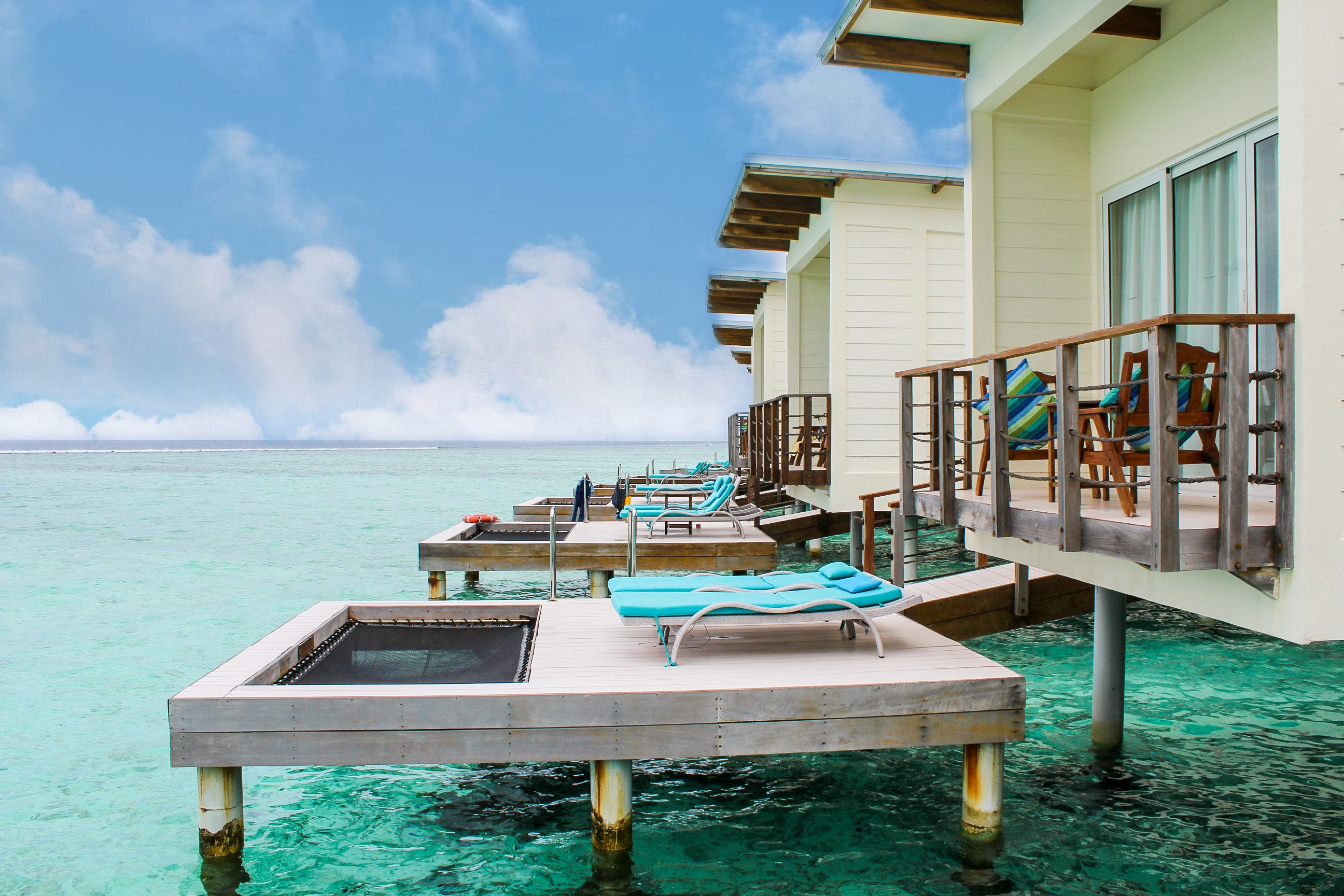 Each villa type at the resort has been designed with cool clean lines with white washed timber providing warm texture to the unshod foot. You can grab a coffee and wood-fired pizza from the Bokkuraa Coffee Club beside the sparkling infinity pool, or unwind with a good book and views over the peaceful lagoon. You can also indulge in a soothing massage and beauty treatments in their Spa by COMO Shambala and book the Spa Suite's private garden with plunge pool for a romantic afternoon.
After relaxing for few hours, we went directly inside the sea from private deck attached to our villa. We took snorkeling equipment provided by the resort and tried snorkeling for the first time in Maldives.
Sitting on your own private deck for hours and watching marine life passing below the net attached to deck is impossible to pen down.
We spent a quality time on the island very easily. In the resort, we didn't have to worry about getting around, meals or what to do. Even vegetarian meals were available very easily with lots of options.
The staff was super friendly, they knew how to make a good drink and prepare good food. Meals were buffet styled but being vegetarians we preferred a la carte. Infinity pool is the main highlight of the resort where we enjoyed our drinks with a beautiful view. You can't get alcohol anywhere except on the resort islands which have a special exemption.
During evening, we laid down on the deck's net, gazed at millions of stars at night and got immersed in the unbelievable beauty of Maldives.
It's like once in a lifetime experience. The feeling of waking up to the ocean, blue skies and sunny days with a hot cup of coffee was amazing. It is one of the evocative sights, whose glimpses are etched in my memories forever.
What to Buy
Ta-da! Here comes the list of most awaited things to bring from Maldives to your home for your loved once 😀 . You can make your trip more memorable with authentic traditional Maldivian souvenirs, although you will find it is not really a shopping destination. But there are plenty of items like:
T-shirts (with Maldives painted on them)
key rings
beach clothes and cotton garments (feyli)
Imported shell products
Local food products (such as almonds)
Tuna fish products
Lacquer work (with red, black and gold patterns)
Mats (kunaa)
Wooden vases
Miniature boats
Coconut crafts of leaves and shells
Gold and Silver laces
Electronic items
Fridge Magnets, Photo frames, accessories, and many more things.
You can try Chaandanee Magu and Majeedhee Magu streets, STO and MIFCO supermarket as well in Male.
Also find out Things to pack for a Beach Destination 🙂
Places to Eat in Holiday Inn Resort
Bokkuraa Coffee Club
Kandooma Café
The Kitchen
In villa Dining
BARaveli Beach Bar
The Lounge
Bokkuraa Poolbar
The Deck
Important Reminders
All tourists are granted a 30-day visit visa on arrival. People visiting for any other reason, especially as journalists or photographers, should apply for a visa in advance from the website www.immigration.gov.mv .
Free Wi-Fi is available at the airport.
Every guesthouses, lodges and resorts provides free Wi-Fi with good internet speed.
Maldives is a Muslim country. They prohibit or restrict certain items such as religious idols: materials offensive to Islam, pornographic materials, materials such as pigs and pork products, narcotics, psychotropic substances, Alcohol, spirits are restricted.
If you are staying at a private resort, you can use US Dollars (USD) as well as Maldivian Rufiyaa (MVR). But if you are staying at a local island, it is best to have some local currency (MVR).
Do not lose the receipt when exchanging money or withdrawing from the ATMs.
You can buy local SIM Card for phone from shops at the airport.
Maldives is a tropical paradise of pristine beaches where sands are white as the smiles on every Maldivian's face.
One of the most amazing things about Maldivian water is that it changes its color frequently; it looks crystal blue during the day when sun shines over it, pale blue during sunset, vivid blue in the middle and turquoise blue near the shores. I had never seen so many shades of blue. I am sure after reading my blog you will not wait to book a flight to Maldives.
Also Check out 12 Interesting Facts about Maldives to get some more information and to book your hassle free trip to Maldives. You can also find some interesting tips in my short blog about what to pack for Maldives in Things to Pack for a Beach Destination.
Don't forget to check out my Article Printed in Films n Fashion Magazine: "Maldives for Non Swimmers".