Bollywood Romance in Kashmir!
With the Aroma of Chinar trees, Vibrancy of saffron, Beauty of magical Himalayan ranges, Soothing sound of Jhelum's water ripples and the Rise of Azan, I welcome you to the India's Northern union territory Jammu and Kashmir?. Someone said very well about Kashmir that "Every other beauty simply vanishes or feels less when you once see how beautiful Kashmir is. The valley, the mountains and the rivers – everything about the stunning land continues to elevate its beauty at all the junctions throwing new surprises". Jammu and Kashmir has two capitals: Srinagar is the summer capital while Jammu is the winter capital.
On this Valentine's week❤️, you can book a trip to Kashmir and give unique snowy surprise in Bollywood style to your partner. Its alluring beauty will win your heart and makes you fall in love with its brimming state instantly. This place is blessed with numerous stunning valleys, beautiful lakes, snow capped mountains, splendid gardens, historical monuments in addition to lots of scope for indulging in adventure activities like travelling, outdoor camping, skiing, water-sports and a lot more activities.
Many famous evergreen romantic songs including movies of Indian cinemas golden era are picturized on the blissful snow-clad and lush green locations of Jammu & Kashmir. It has become a prime shooting location for many Bollywood movies after veteran actor Shammi Kapoor shoot Junglee here during 1960. Kashmir is also known as heaven on earth, which has been unknowingly promoted by people from Bollywood. I will try to discuss about some famous movie's locations in my blog so that you can take pictures on the spots where your favourite actor or actress had shot?. These pictures definitely make you wish, you were indeed in the sets of the movies shot in Jammu and Kashmir. Do you know why lots of Bollywood movies have been shot in Kashmir? No, so let's find out with the help of this blog?!
From floating away on Shikara rides or spending time by walking with your beloved in the apple gardens or just to enjoying snowfall. In this blog you will find a complete route guide, everything you need to know before you go, best places to visit and all necessary information to make your journey even more special! And if you are spiritually inclined then there are numerous religious shrines that will show you the way to peace and serenity. You will read many good travel tips accumulated by me in this Valentine's Day special blog for the travel enthusiasts like you, so keep reading!
My 9 days itinerary encompasses Srinagar, Gulmarg and Pahalgam as I had only limited days to spend in the spellbinding beauty of Kashmir. Well get ready to start the most awaited filmy journey of Kashmir in Bollywood style with the Globetrotter Lady?!
Day 1: Arrival at the Srinagar airport
After boarding the 4×4 SUV taxi that we booked for next 9 days from the Srinagar Airport, we directly moved to our hotel in Srinagar city. It was the summer capital of Kashmir, where Shammi Kapoor's humorous character from the movie Junglee (1961) fell in love and started singing song Yahoo Yahoo!! After this song, Kashmir became a popular tourist destination among people!
After checked into "Fortune Resort Heevan" Hotel in Srinagar, we grabbed something to eat from nearby restaurant and relax ourselves by spending the remaining time with each other into the hotel. But you can also head straight out to enjoy the city. All types of Vegetarian food were easily available here whether it was North Indian or South Indian.
Do you know where was the end scene of the movie Student of the year (2012) was shot? Well it was shot in front of The Lalit Grand Palace Resort in Srinagar where the fight scene between Varun Dhawan and Siddharth Malhotra are shown.
Day 2: Srinagar (Shikara and Shopping)
This was my first beautiful morning of Kashmir?. I wake up and checked the outside temperature and it was below zero degrees!! It was really freezing! If you don't like too much cold weather then you can wait till sunrise. But I like winters so without wasting any time I quickly start getting ready to explore Srinagar city.
Srinagar is the largest city of Jammu and Kashmir lies at an elevation of 5,200 feet in the Kashmir Valley on the banks of the Jhelum River and Anchar lakes. It is an ideal paradise for travellers as it provides tourist locations within a close proximity. This city is famous for its natural environment, gardens, waterfronts and houseboats.
I started my day with early breakfast and moved directly to the most awaited Shikara ride on Dal Lake. Dal Lake Lake of Flowers is located at Boulevard Road and has many beautiful floating gardens (Rads). The lake is also an important source for commercial operations in fishing and water plant harvesting. The shore line of the lake is about 15.5 kilometres, which is encompassed by a boulevard lined with Mughal era gardens, parks, houseboats and hotels.
Always try to take a Shikara ride early in the morning during morning prayers when shikara serves as markets which make this scene really surreal and perfect for capturing. Sometimes during winters, lake is covered with a layer of ice and Shikaras don't work in this condition. I chose February for Kashmir trip because I wanted to see snowfall? but if you don't like winters then you can also choose summer season❤️ (March to May) for a Shikara ride.
Cost of Shikara ride at Dal Lake (per person)
| | | |
| --- | --- | --- |
| ​1 hour | 2 hour | 4 hour |
| INR 400 | INR 700 | INR 1300 |
We booked Shikara ride for 4 hours. Our boatman provided us with blankets and Kangri (an earthen pot filed with burning coals) to keep us warm. Kashmiri's are warm and hospitable in nature and are always happys to share sumptuous stories with visitors. In fact you will find that these interactions will definitely be the highlight of your trip to Kashmir. We stopped over at many floating establishments from where we took Maggie? and some onion pakoras to eat as snacks with a hot cup of delicious Kahwa☕ which helped us for keeping warm from inside.
The snow clad mountains and small floating garden with cool breeze is beautiful to feel during the ride. So booking this Shikara ride with your Valentine is must on this Valentine's Week❤️! During our ride, small shopkeepers from other Shikara boats tried to sell stuffs including Kashmiri dresses, ornaments and much more but we just bought a fridge magnet as souvenir. You can also take Kashmiri traditional dresses on rent onboard to click some pictures in filmy style during the ride. People also prefer to stay in the old-fashioned houseboats that are stationed on this lake to get a delightful Kashmiri experience.
At the shores of lake, you will find many shops in Meena Bazaar market from where you can buy Kashmiri gift items for your family that I have discussed in details in my another blog What to buy in Kashmir.
During boat ride, our Shikara's boatman happily told us about the different locations of the movies that had been shot here. He told us that Yeh chaand sa roshan chehra, an eternal romantic song from movie Kashmir Ki Kali (1964) was filmed on shimmery waters of Dal Lake with beautiful backgrounds. The song where heroine Sharmila Tagore is sitting in a Shikara boat wearing Kashmiri ethnic outfit and the hero Shammi Kapoor is wooing her from another shikara boat. This song has always wooed my heart. Do you know Yeh chand sa roshan chehra song from Ranbir Kapoor's movie Rockstar (2011) has been also shot at the same location where his grandfather Shammi Kapoor originally shot this song.
One more interesting thing that both action thriller movies Mission Kashmir (2000) and Lakshya (2004), were partially shot in Srinagar and other various parts of Kashmir starring valiant Hrithik Roshan and dainty Preity Zinta has worked together in both movies. After shooting of Mission Kashmir famous song socho ke jheelon ka shehar ho in a houseboat at Dal Lake, this place has become even more famous among Hrithik Roshan's fans.
Rockstar (2011) is one of my favourite movies because of beautiful locations used in the movie as well amazing character of guitarist played by Ranbir Kapoor in this movie. I am learning guitar so I can easily relate to his character from the movie. This movie was shot in Kashmir at places Kulgam, Kupwara and Srinagar.
Do you know that the movie Yeh jawaani Hai Deewani (2013) has been shots in different locations of Kashmir such as Kongdori in Gulmarg, Pahalgam and Srinagar? But many people even today often misunderstoods that this movie was shot in Manali. Some shots of the movie were also shot in Beetab Valley, Aru Valley, and Chandanwari.
After Shikara ride, we went for lunch and dedicated the remaining day for shopping. Srinagar is the hot spot for shopping where you can buy Kashmiri Shawls, Carpet, Namdas, Wood Carving Objects, Kashmiri Pheran, Traditional Jewellery, Copper Materials, Papier-mâché Products, Kashmiri Kahwa, Saffron, Popular Fruits, Dry Fruits, Kashmir Willow Bat and Kashmiri Spices also.
To know more details about these Kashmiri items, you can read my blog What to Buy in Srinagar and also check famous markets in Srinagar mentioned in this blog. After reading this blog you would be able to understand which item is good for spending your precious money and it will also help you to distinguish among real and fake items by yourself.
Keep reading to know about locations of your favourite movies shot in Kashmir!
Day 3: Srinagar – Tangmarg – Gulmarg
After enjoying Shikara ride and shopping in last day at Srinagar, next day we went for Gulmarg which will take about 2 hours from the taxi. We stopped at a small town Tangmarg to move from our taxi to a jeep. From this point onwards normal car tires can skid so we took a jeep whose tires were rolled with chains. If you forgot to keep enough warm clothes for this trip then you can also rent long warm coats, warm gloves and long boots for snow from shops in Tangmarg (which is on the way to Gulmarg).
We were about to leave for Gulmarg that snowfall started. I was born and brought up in Delhi and after marriage shifted to Hyderabad so this was the first time in my life that I was watching live snowfall. In excitement, I moved out my hand from the jeep's window and tried to catch the snowflakes. They were falling like little-little pieces of pearls that were disappearing within few seconds of falling on my hands. Within few seconds I putted my hand back inside the car and wore my gloves quickly because I am not used to that much cold. It was so freezing that my cheeks and nose became red and I started shivering with cold. Our drive switched on the jeep's heater immediately. Although the view of valley and the snowy road's ride was too amazing that I felt in love with it and started picturing myself in the song Ishq Waala Love? from the movie Student of the year (2012). I saw beautiful snow-covered mountains and the most incredible scenery of Kashmir Valley during this ride. This movie is directed by Karan Johar in which Alia Bhatt, Varun Dhawan and Sidharth Malhotra played as lead roles.
There are plenty of hotels in Gulmarg that you can easily find online. To be honest the entire town is not that big, you can easily reach to the entry point of Gondola ride by walk. Or else, you could also catch a Pony ride or Sledge ride which is available here in plenty.
After checked into Hotel "Pine View Resort" in Gulmarg, me and my husband went out for lunch in nearby eating point. We ordered Kashmiri naan, dum aloo, rajma and rice along with two hot cup of Kahwa. After having this delicious meal, we went out for a small walk. All hotels and roads were covered with heavy snow which made a beautiful eye relaxing view and if there is paradise then I am sure it will definitely looks like this. I would say to all my readers that if there is a heaven on earth, it is here… it is here… it is here…?!!
In Movie Bobby (1973) the beauty of Kashmir had made Rishi Kapoor and Dimple Kapadia's love story even more appealing. The hut where the famous song Hum tum ek kamre mein band ho was filmed is part of Hotel Highland Park in Gulmarg. After this movie release that hut is renamed as Bobby Hut. On this Valentine's week you can also book this hotel for your loved ones or just take pictures from outside of the hotel as a memory.
Gulmarg "Meadow of Flowers" is really different from other parts of Kashmir in all seasons and is one unique place you should definitely see. Basically it's a year-round destination. We came back to our hotel before 5 in the evening. We had our dinner in hotel only because it was too cold to go outside and we also wanted spend some quality time with each other in a snow covered hut?.
Day 4: Gulmarg (Things to do in Gulmarg)
After breakfast, we booked a sledge from our hotel to reach Gulmarg Gondola ticket booth, which took about 20-minutes. One most important thing to remember is to wrap up warm. It will be a whole new level of cold so grab warm jackets, gloves and some good quality of boots, after all no one likes cold toes.
Well another romantic movie Aap ki Kasam (1974) is also shot in the charming locations of Gulmarg. The very famous song Jai Jai Shiv Shankar is shot at the Shankaracharya Temple of Kashmir where Rajesh Khanna and Mumtaz are having lots of fun by drinking bhaang (cannabis). This super hit song is full of hooting, whistles and cheers that will make you dance. This song is also specially played during Holi festival in India.
Gulmarg Gondola? is one of the world's highest operating two way cable cars that ferries tourists from Gulmarg town to the top of nearby Apharwat Peak. It is 2nd highest cable car in the world and it is Asia's highest as well longest cable car reaching an altitude of 13,400 ft. During this cable car ride, you can take some breathtaking pictures. There are two phases of Gulmarg Gondola. Gulmarg town is the starting point of the ride and the top of Apharwat peak is the end point. Kungdoor is the centre point in between.
Cost of Gondola ride at Gulmarg (per person)
| | | |
| --- | --- | --- |
| ​Phase1 (Kungdoor Station – 3,100 meters) | INR740 per Adult | No entry fees for child below 3 years |
| Phase2 (Aparwath Station – 3,980 meters) | INR950 per Adult | No entry fees for child below 3 years |
Gondola Timings: 10:00 AM – 5:00 PM
Ticket Counter Timings: 9:00 AM – 3:00 PM
Duration: 2 to 3 Hours and opens all days working in a week.
After buying ticket from counter, get onboard, it will take about 10-12 minutes at most to arrive at the Kungdoor station. Gondola ride was absolutely scenic and from this cable car you will see many small huts below covered with snow. This scene is really impossible to pen down. After reaching at Phase 1, I took a deep breath to feel its cold breeze and marvellous beauty. It felt like snow blanket sprawls over the entire earth?. This place is magnificent feast for photography lovers. You will find lots of tea stalls at phase 1 as well as small eating points to eat something or you can just walk around to enjoy the vistas. Lots of people including families mostly travel only till Phase 1 and go back from here.
If you however want to go further then you can board another Gondola to Phase 2 that will also takes the same time. You have to buy tickets in advance for both Phase 1 and Phase 2 from the booking counter at Gulmarg only. Keep in mind that there is no booking counter at Phase 1.
You can also have a guide to help you with the purchase of tickets and to accompany you along the way at Phase 1. They won't charge you much, just Rs 600 only and good thing is that you do not have to pay for your guide's Gondola ticket as they can ride free of cost here. A good guide will always help you to choose an appropriate activity for you and also tell you how to bargain for it. It is important to bargain in each and every transaction that you make (unless the prices are fixed).
Activities at Phase 1
(1)Skiing Service providers quoted Rs1000 and (2)Sledging service providers also quoted Rs1000 per person. There were three points – K1, K2 and K3 for riding (3)Snow Scooters. Each point had different price lists. Snow Scooter service providers quoted RS2500 till K3, the highest point. We managed to bargain till Rs1600 to ride the snow scooter till K3. Our snow scooter driver also taught us how to ride the snow scooter. From point K1 to K2, the driver rode the scooter. And from K2 to K3, I rode the snow bike.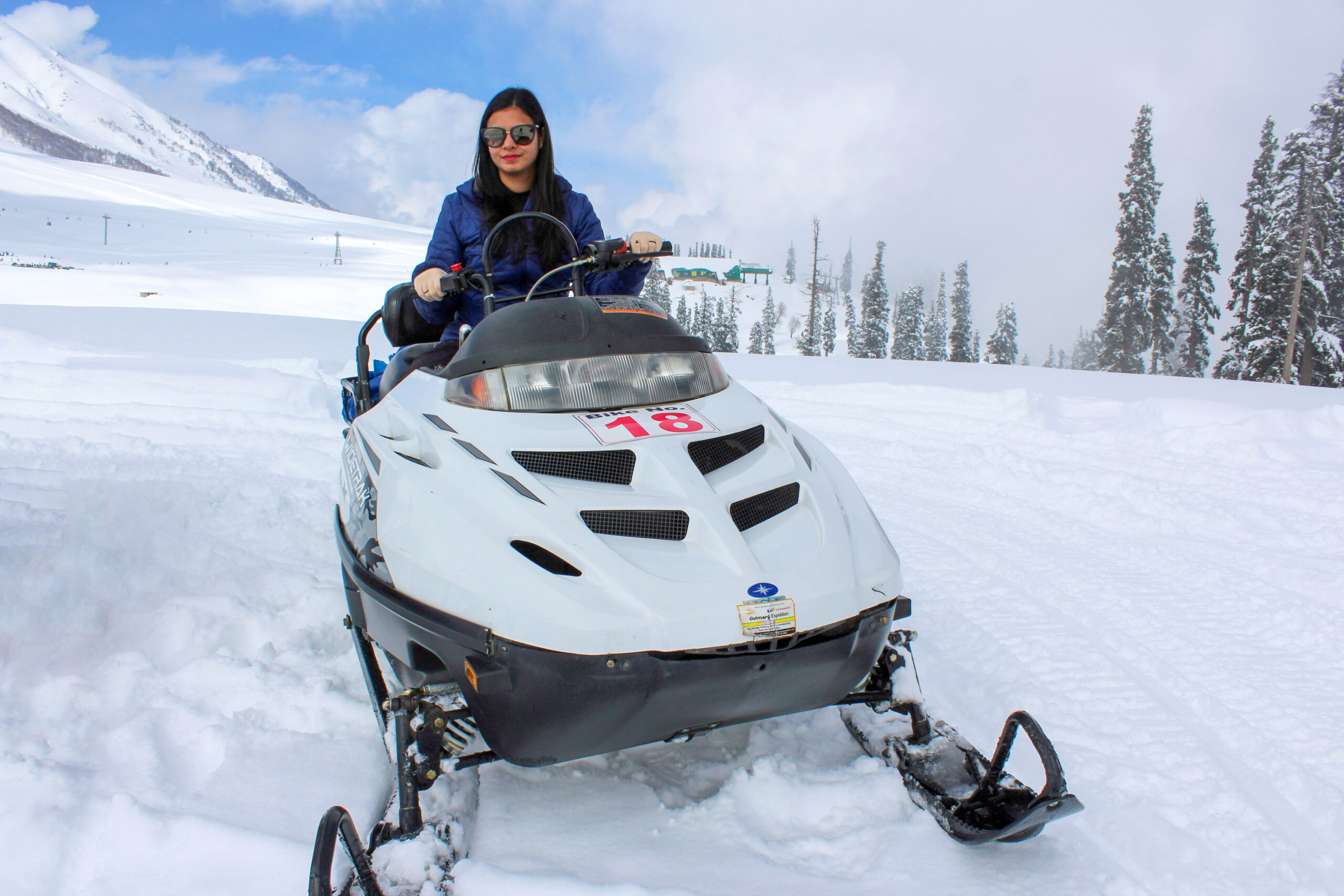 This was the first time I was riding a snow scooter but I kept myself calm and not got too much excited and also not tried to exceed the speed mentioned by driver. Don't worry! Your driver will teach you and ensures that you can control the snow scooter before you bring the scooter (and them) up to K3?. You can also ride from K3 back to K1 or ask the driver to ride you back. We asked our driver to ride us back to K1 because our body was freezing due to extreme cold weather at K3. Juggling all these activities on snow was big adventure and new for me and I fully enjoyed them.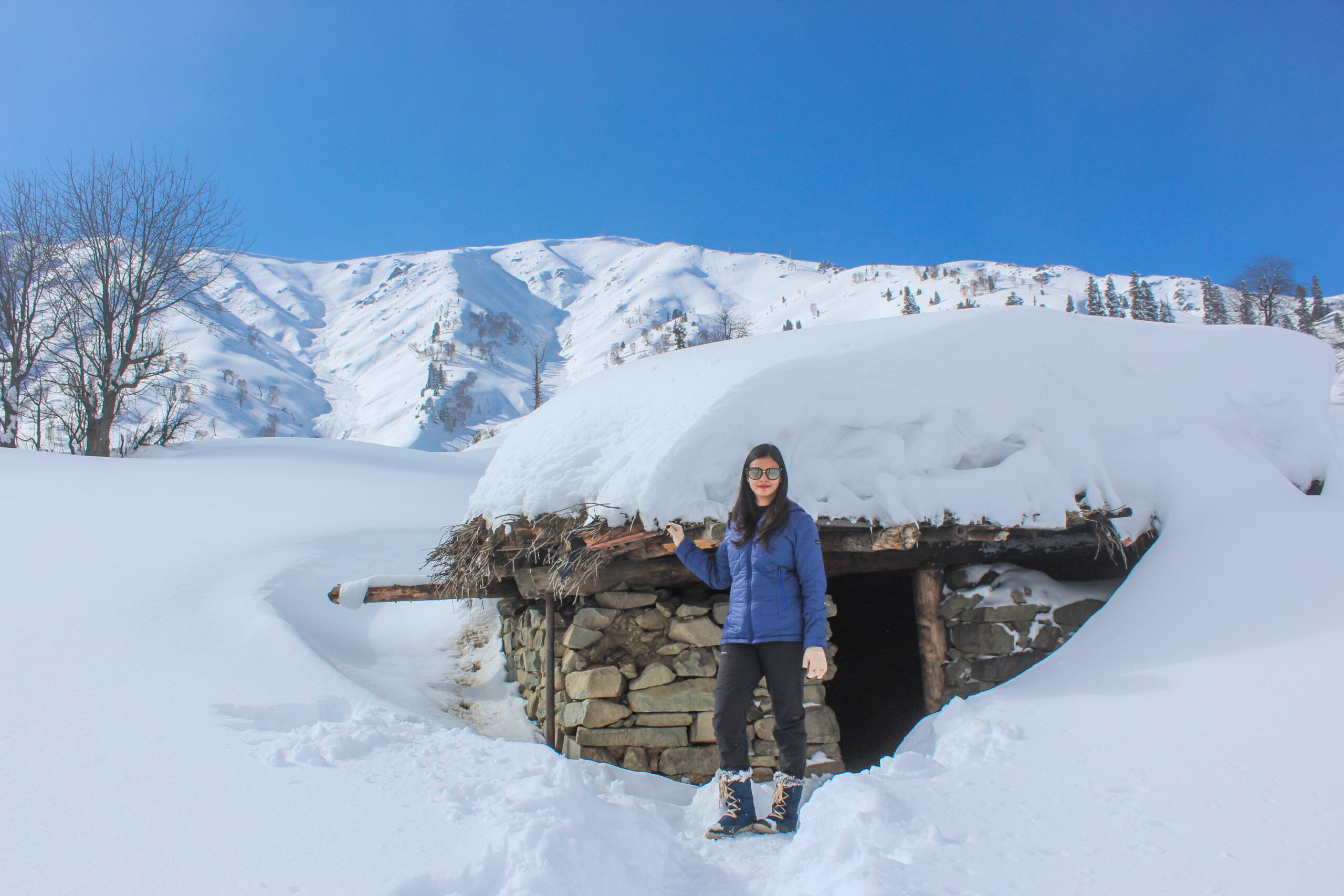 If you are interested in snow activities such as skiing and snowboarding then you must add Phase 2 to your itinerary. For getting the best experience of Gondola ride as well to watch mesmerising valley, get onboard for Phase 2. You will find incredible panoramic views which drive you crazy?. It will take you through some heavenly vistas, which make you realise why there are so many odes and compositions dedicated to the beauty of Kashmir. From here you can also trek to the top of Apharwat peak which is at the altitude of 4,200 meters.
This is the best places in Gulmarg for stunning views of valley. After skiing you can head onto the cable car straight for exit or spend some more time there and also go for hiking. This place is so beautiful that you can literally spend weeks here! But remember, there are no eating points at Phase 2 so keep some snacks with you to eat.
After coming back from Gondola ride, must try ATV Quad Bike. It will cost you 2000 per person for 13 Kms ride within Gulmarg. The amazing thing about this ride is you can also ride it by yourself. I really enjoyed the overall day too much, it was full of adventure and natural beauty.
Gulmarg offers a plethora of scenic and experiential excursions, you can pick any activity that you like most. I would say Gulmarg is a beautiful location placed in Jammu and Kashmir where you may go along with partner, family or friends to enjoy the beautiful view along with other adventure sports. This is also the host of many national and international skiing events. This place is perfect to hone your skills whether you are a beginner or an expert.
What I love most about Gulmarg is its snowy weather and delicious food. Here you can soak yourself in the beauty of snow covered mountains or you can also explore their rich cultural history. Even adventure lovers can go for trekking, skiing or ice skating at this place. This place is truly all in one package deal!
After a full day tour, we went back to hotel and had early dinner and went to sleep. The hotel staffs were so polite that they provided us 4 extra blankets as well 1 extra heater for the night.
Day 5: Gulmarg to Pahalgam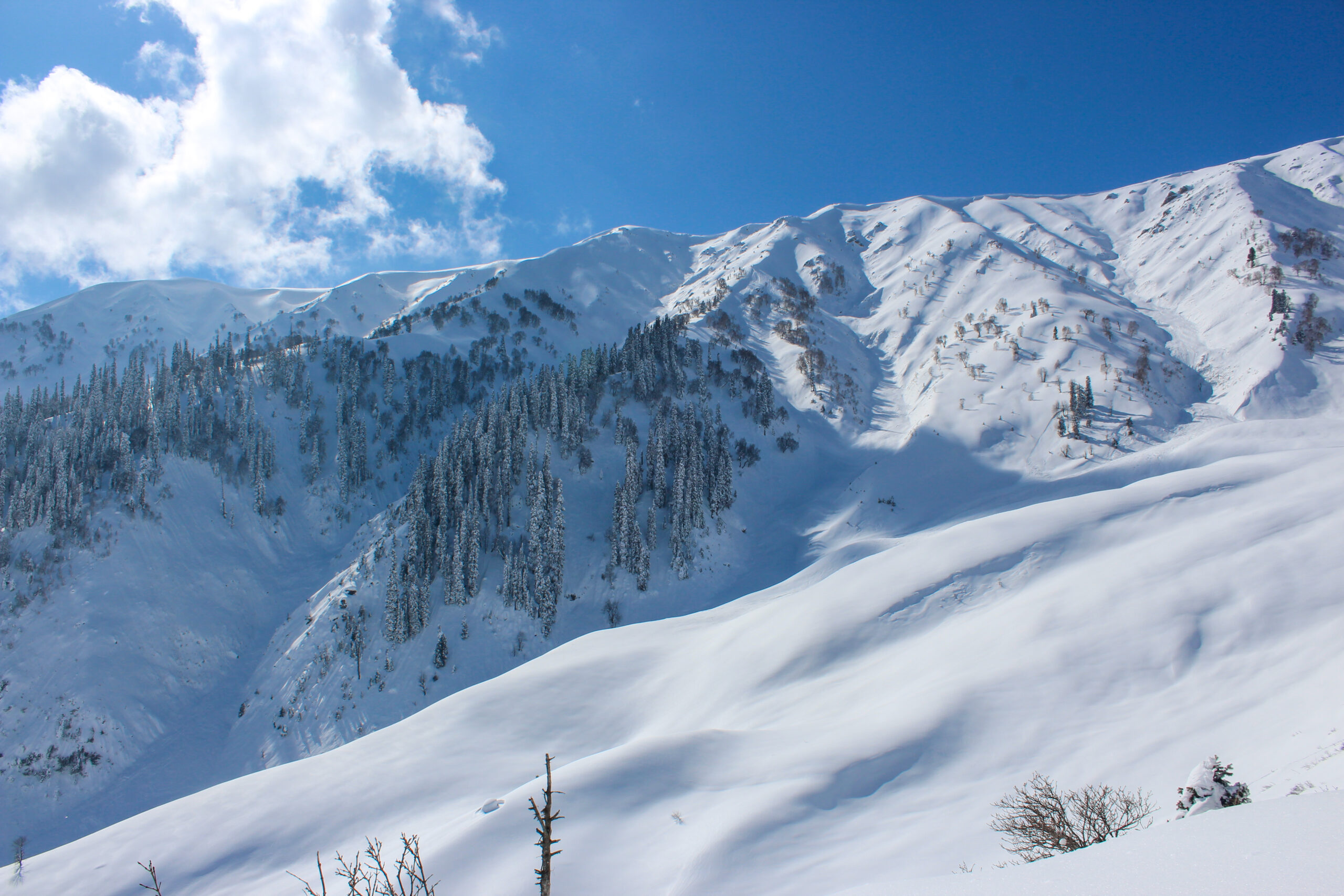 Now it was the morning when we had to check-out from Gulmarg hotel and leave for Pahalgam which will take about 4 hours from the taxi. We had a delicious breakfast at Gulmarg town and left for Pahalgam. I could not believe that I was leaving this beautiful town. The journey from Gulmarg to Pahalgam was very scenic. The alluring roads reminded me of the bollywood movie Bajrangi Bhaijaan (2015), which was extensively shot in places like Sonamarg and Zoji La. The climax of the film was shot at Sonmarg near the Thajiwas Glacier reportedly at 10,000 ft above sea level with around 7,000 people gathered there at a time.
Our driver was playing back to back hit songs of the 1960s which reminded me of that golden era. Do you remember movie Arzoo (1965)? Its first half was shot in the beautiful landscapes of Kashmir where the love story of a pretty girl "Sadhana Shivdasani" and a skiing champion "Rajendra Kumar" begins rolling while they were on a holiday. The songs Aye Phoolon Ki Rani and Ae Nargise Mastana sung by Mohammed Rafi were the strongest point of movie, of course after Sadhana Shivdasani.
Another Bollywood blockbuster movie Jab jab phool khile (1965), is the story of a poor boy Shashi Kapoor who is a boatman in Kashmir and falls in love with a rich tourist Nanda. The mesmerizing mountains of Kashmir served as the perfect backdrop of the popular song Pardesiyon se na akhiyaan milana.
Their beautiful roads also reminded me of one of my favourite song Pukarta chala hoon main? from the movie Mere Sanam (1965). It is the romantic hit melodies in Rafi's soulful voice that is also captured on the picturesque locations of Kashmir. In this song hero Biswajit Chatterjee is riding a jeep and wooing pretty Asha Parekh who is cycling with her friends.
After checked into hotel "Welcome Pine n Peak" in Pahalgam, we went outside for something to eat. I'm usually not the one who eats all meals in the hotels. Always I like to head out to different spots to experience a new joint. Once moved out, you'll find an opportunity to wander the snowy roads and see the historic house and really lean into the charm of this beautiful town. If you're feeling lazy pop then you can order lunch from the hotel's restaurant.
After spending day time in this place, we came back to our hotel to relax ourselves and had our dinner in the hotel. After spending some more time in the hotel me and my husband realize that this is not the time to sit ideal in the hotel room. The outside view from the hotel's room window was looking very romantic and we must go out for a small walk to explore the city during night also. Without second thought we went out for a walk but it was very cold outside, that's why we also grabbed a cup of hot Kahwa with us.
Be the shaky winters of Kashmir and your one hand is clutched in the hand of your love while in other hand you held a hot cup of Kahwa and both of you are keep walking far away on the deserted snow covered roads?. What else would you like more than that on a romantic Valentine's week?!
Day 6: Pahalgam (Betaab Valley and Aru Valley)
On the next day, we woke up early to explore the nearby area in the same town by pony ride. The ride was beautiful, we went through snow covered lanes to reach beautiful snowy mountains and after spending some time over there we headed back to hotel for breakfast.
Do you know that movie Roja (1992) was initially planned to shoot in Kashmir? But due to extreme terrorism there this movie was shot in other resembling hill stations included Coonoor, Ooty and Manali, Himachal Pradesh! Including this movie, there are myths about many other movies that they were shot in Kashmir. After breakfast we to head towards our rented jeep whose tires were rolled with chains, to see Betaab Valley and Aru Valley. Make sure to visit Betaab Valley and Aru valley during the daylight hours only. Betaab Valley is located almost 15 kilometres from Pahalgam in Anantnag district.
The way to reach till the betaab valley was very picturesque, it reminded me of the song Katiya karun from the movie Rockstar (2011). So to all Rockstar movie fans, keep your camera ready to capture this location because some parts of this song had been shot in the Betaab Valley of Pahalgam.
Raazi (2018) is another hit movie of Alia Bhatt shot in the beautiful valley of Kashmir that captures the true essence of this destination. Shooting done in places of Kashmir includes Pahalgam, Shiv Pora in Srinagar and Doodhpathri in Budgam district. Including this movie many Bollywood movies have been shot in the eternal beauty of heavenly Kashmir.
Do you know that Betaab Valley's old name was Hagoon or Hagan Valley? Well this valley is renamed after the film Betaab (1983), which was one of the biggest hits of this year. This film is a love story of two youngsters Sunny Deol and Amrita Singh who fall in love despite the status gaps between their families. This movie and its locations had so much liked by the audience that the Hagan Valley (where this movie was shot) renamed as Betaab Valley!
As far as you can see in Betaab Valley, you will only find a white sheet of snow covering the earth and few calm chinar trees standing between them.
This valley's beauty made us so cheerful that we started playing with snow and also made snowman.
In the middle of valley you will also find Lidder River, the melodious sound of its flowing water will surely reminds you of soothing songs. At this point of time a song that clicked my mind was Dekha ek khwaab from the movie Silsila (1981). This song was partly shot along the rivers and valleys of Pahalgam where Amitabh Bachan and Rekha are romancing.
We were heading towards our jeep after watching Betab Valley, suddenly the weather turned so bad that it started snowing. This was the second time we saw snowfall in Kashmir. This was the most romantic moment of our trip when small snow pearls were falling over my entire body and the cold was getting increase. It was really fun to see this snowfall but our next point Aru Valley got cancelled due to this weather and we headed back to our hotel.
If weather is favourable at the time of your visit to Kashmir then you must visit Aru Valley to enjoy more snow. After the snowfall stopped, we spent the rest of the time wandering the market and had lunch as well dinner there only. Our day ended with these lovely memories of Pahalgam and we went to sleep early because we wanted to leave early for Srinagar on the next day.
You must put Pahalgam trip in your itinerary while planning for Kashmir. This place is paradise to practice yoga and meditation and also to spend some quality time with your partner. Frankly speaking I want to tell you that I had never seen such quiet and enchanting place till today so quiet that you can clearly hear your partner's heartbeat! Isn't it romantic!
Day 7: Pahalgam – Srinagar
Leave for Srinagar which is about a 3 hours drive from Pahalgam.
On this way, we found lots of Apple garden as well as countless chinar trees. This drive was so beautiful that it reminded me on the movie Highway (2014). It's a self-discovery story through travel and it would be probably one of the most beautifully picturize movies of Bollywood during this year. The locations used in the movie are some of the most offbeat places and prettiest too. On these paths you will find yourself swinging happily like Alia Bhatt and like her you will also want to sing the song "Patakha Guddi"! Gurais valley in Kashmir was used to shoot a song of this movie. Some scenes in Aru valley and Chandanwari near Pahalgam are also canned in this movie.
On the beautiful ways to Srinagar, my enthusiastic mind like "Anushka Sharma" also started to sing song Jiya re of movie Jab Tak Hain Jaan (2012).This movie was also partially shot in Srinagar along with other places like Ladakh, Pahalgam, and Gulmarg. This song featuring Anushka and Shah Rukh aptly showcases the serene beauty of the valleys of Kashmir.
One more epic movie that came into my mind on the way to Srinagar was Jaanwar (1964). The autumnal beauty of Kashmir has been well captured in the song Tumse achha kaun hai, starring handsome Shammi Kapoor and beautiful Rajshree in this movie. Love in Kashmir (1976) is also filmed in the beautiful valleys of Kashmir.
After a long drive we reached at Srinagar Hotel "Lemon Tree" and rested there and after that explored the nearby market. While having a hot streaming cup of Kashmiri Kahwa with my husband near Dal Lake, we chatted for hours about beauty of Kashmir and also about our day to day life. After spending 7 days I was truly in love with this place and I don't wanted to go back to my home.
Believe me it will also happen to you after you spend days in Kashmir, its charm will definitely casts its magic on you.
Day 8: Srinagar City Tour
I reserved a separate day for Srinagar city tour as I wanted to fully enjoy each peaceful moment spent in the beauty of Kashmir. If you want you can also merge it with any other day or you can also modify the itinerary according to your convenience or according to weather conditions because my main priority is always to make your trip comfortable as possible. You can also plan a day trip from Srinagar city as there are lots of scenic drives from this place. You can literally drive in any direction and be spellbound by the natural beauty of Kashmir?.
I have included only 4 viewpoints in my Srinagar city tour itinerary because during February month other viewpoints were temporarily closed. You can follow my sequence of visiting viewpoints to make your trip more hassle free.
List of things to do in Srinagar
1. Shalimar Bagh Mughal Garden
Best Time to Visit: Mid-February to Mid-April and September-October.
Timings: 09:30AM – 6:30PM
Entry fees: Rs 10.0 per person
Shalimar garden is a great place to unwind. You can find a spot under one of the huge Chinar trees and enjoy the garden and mountain views. The fountains here are worth watching but aren't always working, so contact the gardens before you visit. The view of Himalayan range on one side while on the other side you will find a view of Dal Lake, which makes this garden more tranquil. Here you can also rent Kashmiri dresses to click pictures. Well this place was worth a visit.
2. Nishat Garden
Best Time to Visit: March-May.
Timings: 09:30AM – 6:30PM
Entry fees: Rs. 10.0 per person
One more famous and largest Mughal garden present at shoreline is Nishat Bagh which is also known as The Garden of Delight. Spectacular beauty of this garden located right opposite the Dal Lake will leave you spellbound. The garden is exquisitely built in different levels with a fountain running in the middle of it. You can have a nice view of Dal Lake from its top. Try to visit this garden in the evening hours to witness a breathtaking sunset over Dal Lake.
Let's talk about one of my favourite movies Haider (2014), which is a critically acclaimed and well acted movie starring Shahid Kapoor, Irrfan Khan, Shraddha Kapoor, Tabu, and Kay Kay Menon. The entire movie was shot in several parts of Kashmir such as Pahalgam, Kehribal area in Anantnag, Mattan, Aishan Sahab Zaina Kadal Bridge in old Srinagar, Nishat Bagh, Dal Lake, Qazigund, Martand Sun Temple, Naseem Bagh, Harzatbal and Sonmarg. As the story is fully picturized in Kashmir, you will find typical kashmiri flavours in the soundscape, language and landscapes of the movie.
3. Chashma Shahi Garden
Best Time to Visit: March and April.
Timings: 08:00AM – 7:15PM (Monday to Saturday) & 02:00PM – 09:00PM (Sunday)
Entry fees: Rs 10.0 per person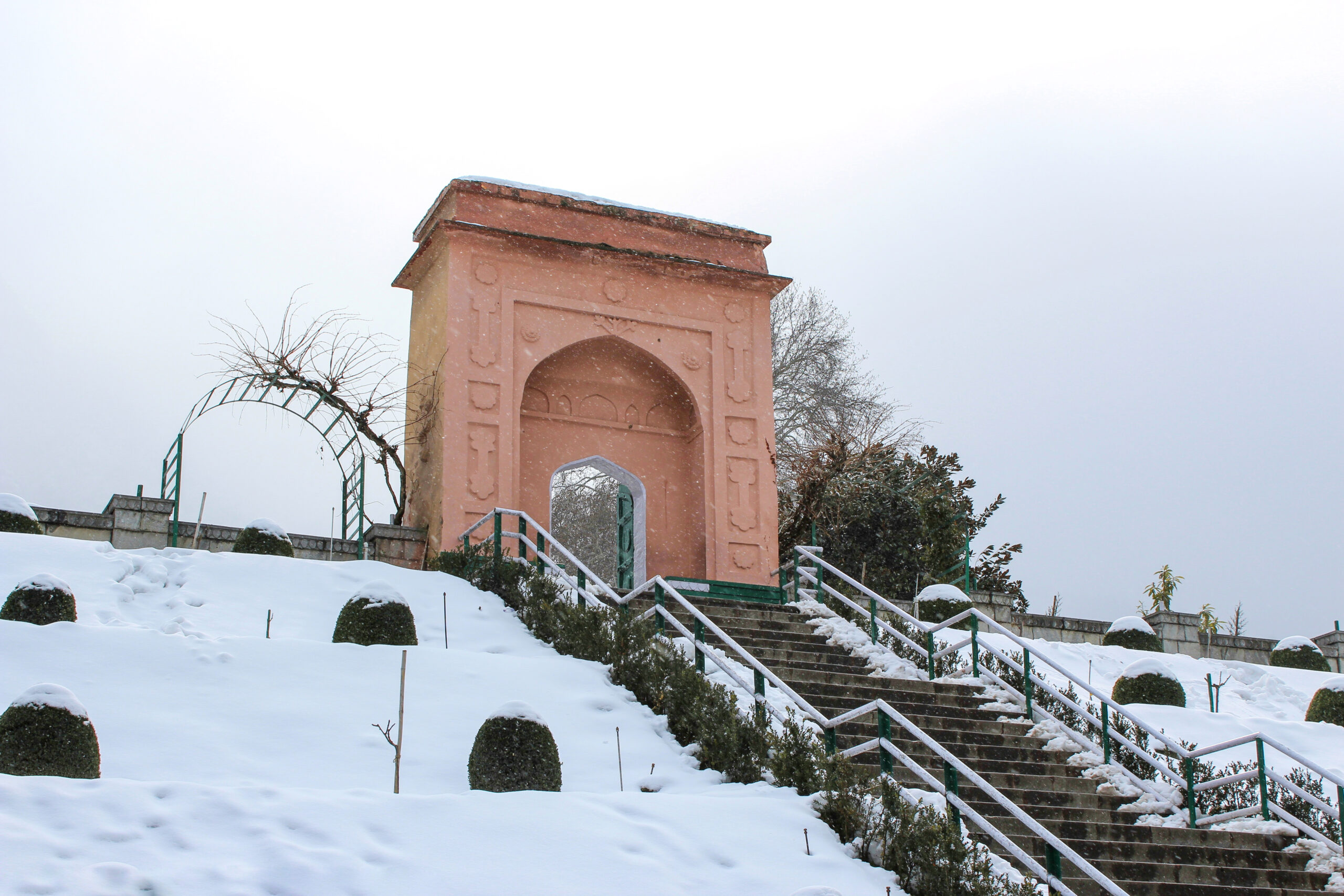 Chashma means a spring and shahi means Royal, as its name itself suggesting that it has a natural spring. Chashme Shahi or Chashma i Shahi also called Chashma Shahi. It is also one of the Mughal gardens situated on top of a hill and from here you can also see beautiful views of Dal Lake. You can also bring empty water bottle to fill its natural water in it. This water has many healing properties. To view this place, you need to climb some stairs but not too much though. This is a nice place for children to play and enjoy during the summer. Many Bollywood movies have been shot here. When we reached at this place, snowfall started again as you can see in my pictures. This was the third time I saw snowfall in Kashmir!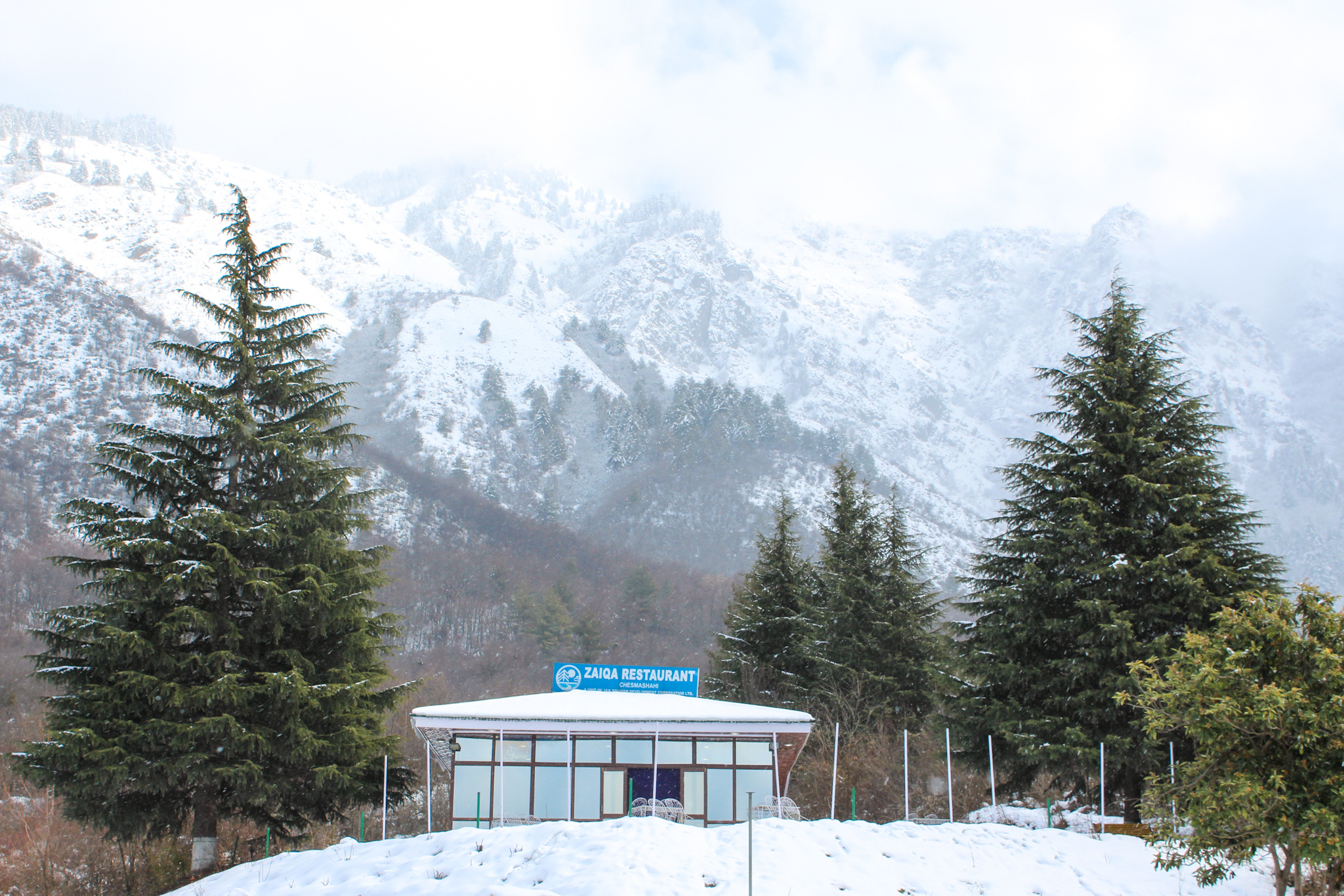 4. Pari Mahal
Best Time to Visit: April and October.
Timings: 09:30AM – 7:30PM
Entry fees: Rs 10.0 per person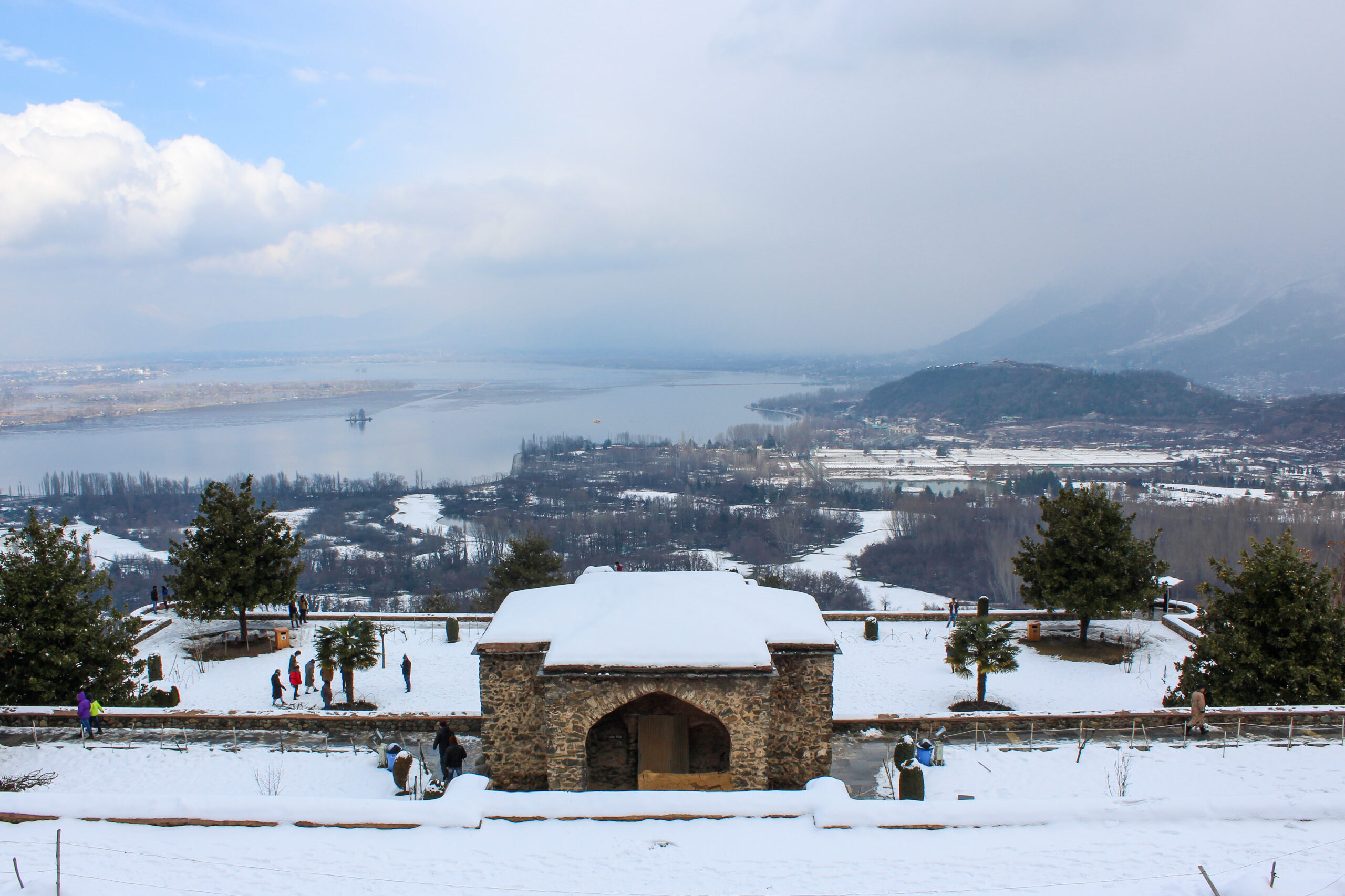 Pari Mahal (The Palace of Fairies or Angel's Abode) is a seven-terraced garden located at the top of Zabarwan mountain range. There is always a debate among scholars as to how Pari Mahal got its name. Some scholars believe that this palace got its name after Dara Shikoh's wife, Pari Begum but others believe that the place was originally known as Pir Mahal, which later changed to Pari Mahal.
Each level of Pari Mahal has its own charm and is worth to visit. You can see the entire city of Srinagar, its lakes, and surrounding meadows from this vantage point.
You can also include Indira Gandhi Memorial Tulip Garden during March-end and early April months in your itinerary. It was closed during February so we were unable to visit it.
After spending the long day in city tour, we came back to our hotel and had dinner there only.
Day 9: Srinagar – Departure
I've always seen hustle-bustle life around me. Such kind of pleasant weather including snow-filled scene, I saw it for the first time in life by which a different kind of peace felted in my heart. I can never forget those golden days that we spent huddled up under the warm clothes. During the entire journey, we enjoyed Kashmiri authentic food a lot along with hot cup of Kahwa tea and I still remember the delicious taste of it.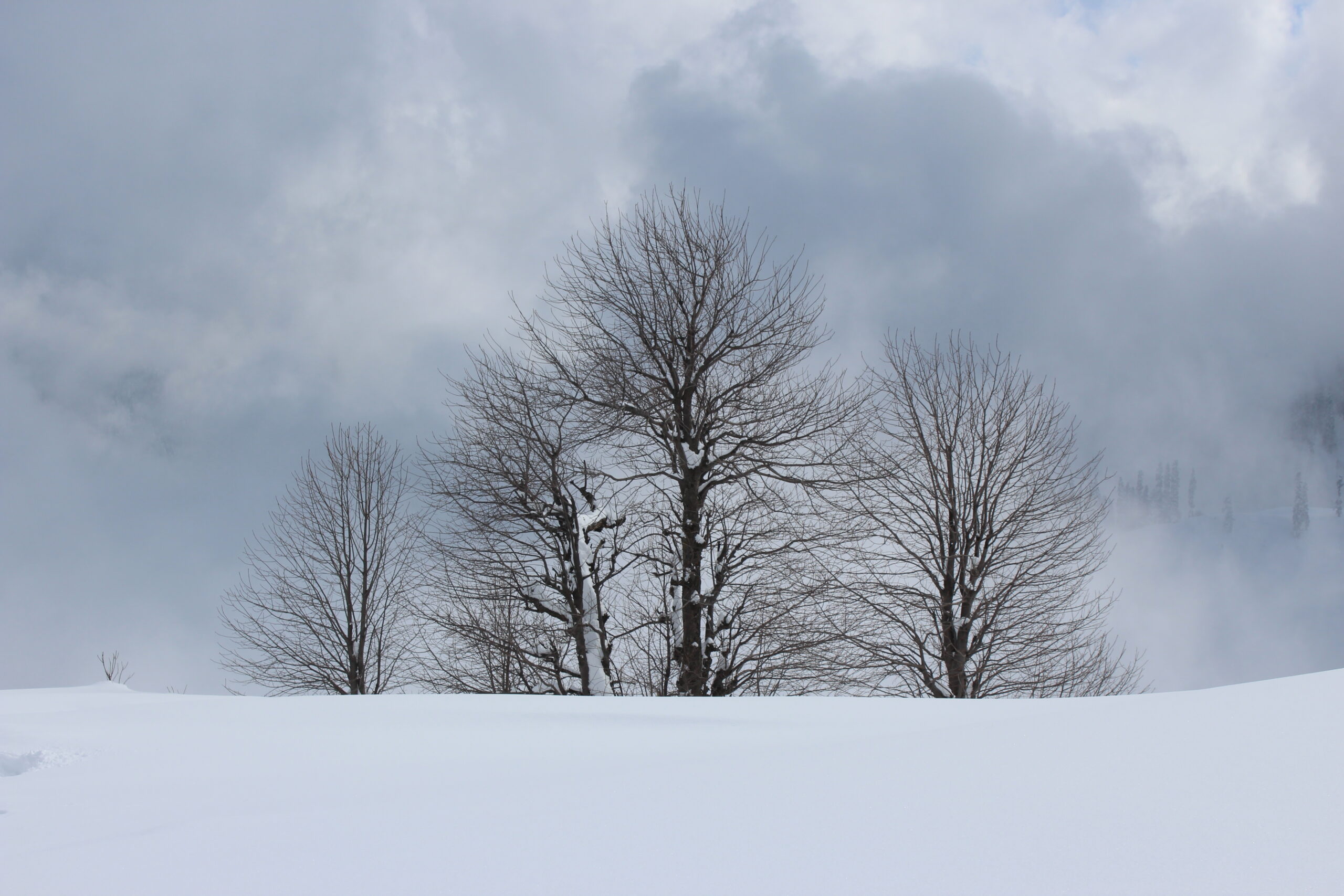 After spending eight snowy days in Jannat-e-Kashmir we headed back to our home with lots of beautiful memories and souvenirs, which still reminds me of this place extraordinarily. After visiting this place, I totally agree that Kashmir is truly a marvellous crown like jewelled on the map of India. Means it's a multifaceted diamond, which changes its character with the changing seasons. Each weather in Kashmir has its own extravagant beauty. It is truly the birthplace of great rivers which flow down into Laden River by passing through the different valleys as well wild orchids and lilies?.
I want to dedicate this blog to my husband as a gift of this Valentine's Day?. I hope he will like it and also my readers also like it too. Kashmir is synonymous with romance, love and beauty which is well justified in Bollywood movies. Love Story (1981) is another movie of cute couple Vijayta Pandit and Kumar Gaurav. They run away to elope when their parents oppose to their relationship. This romantic movie was also shot in Kashmir. The list does not end here and if I start explaining about each Bollywood movies shot in Kashmir then my whole blog will never gets end?.
How to Reach
The easiest way to reach Srinagar from New Delhi is flight which takes 1hr 20mins. Srinagar is connected to Jammu, New Delhi, Mumbai, Bangalore, Chandigarh and Amritsar with regular domestic flight services offered by IndiGo, Air India, SpiceJet and GoAir. We booked a flight from New Delhi to Srinagar on 22th of January, 2019.
We reached Delhi airport on time to catch our flight with full excitement. The flight was short and relaxing. During landing I saw the most beautiful range of Himalayas but nobody including me took pictures during landing because photography is prohibited at Srinagar airport.
Srinagar airport is situated at a height of 5,429 feet (1,655 metres). Srinagar(SXR) airport or Sheikh Ul-Alam International Airport is also known as Budgam airbase because it is located at Badgam, which is 12 km north of Srinagar city centre. You will face a heavy security measures but not daunting at this airport as it is also owned by the Indian Air Force. Srinagar Airport consists of a single terminal for both domestic and seasonal Hajj flights.
Facilities available at Srinagar Airport
WI-FI
LOST & FOUND BAGGAGE
DISABLED SERVICES
ATM
MEDICAL AID
OTHER SERVICES: Registration counter, Child care room, Luggage carts, Telephones, Security hold area, Restroom, etc.
Once landed, we collected our luggage from the respective belt. We booked a taxi for next 9 days from a kiosk shop inside the airport. You will find information booth located in arrivals as well outside the airport to hire a taxi, get bus tickets, rickshaws and car rentals. You can even get to the closest train station through other transportation options available. I will suggest rickshaws are not a safe option as compared to taxis but quite affordable for short distance trips. If you are coming to Srinagar for the first time, then renting a car is a good way to move around.
Best time to visit
Kashmir experiences all four seasons – spring, summer, autumn and winter. If you're waiting for the best time to visit Kashmir then let me tell you Kashmir is an absolute year round destination. All seasons here have their own allure that fascinates travellers from all over the world. Visiting to this destination during any season will bewitch your heart and as soon as your first trip to Kashmir is over, you will start to spend your life to plan another trip to here again.
Summer❤️: Summer in Kashmir is generally from May to August. The region records a 20 to 30 degree Celsius during the day and 15 to 20 degrees at night. During these months, days might be a little warm but evenings and nights can get quite cold so consider it as the peak tourist season. It is the best time to visit Kashmir for people who does not likes snowy weather. As at this time of year the temperatures become warmer and the city emerges in all its glory, painted by tourists, local residents and their colourful culture. Weather becomes pleasant and lets you explore the lush green meadows and enchanting natural beauty of Kashmir without any obstacle.
Monsoon?: Monsoon starts from June and lasts till September, with the maximum temperature reaches to 35 degrees Celsius. Most people might consider the monsoons to be an off-season in Kashmir. Due to this, there are often good deals on hotels and tours so you will save money at this time. This weather might get a bit chilly for hiking, so do come prepared with enough warm clothes as well as waterproof raincoats and umbrellas. However, don't let the weather discourage you. Some parts of Kashmir may not get much rainfall and the weather is quite pleasant even during these months. It's also the best time for apple-picking, so you might be able to enjoy this activity if you're lucky.
Autumn?: Autumn season in Kashmir is generally from October to November. Its brief temperatures range from lows of 9°C to highs of at least 20°C. As autumn approaches, its green land starts changing into a bright orange hue that is unique to Kashmir. In fact, many people say that it can be the best time to visit Kashmir. Kashmir's famed Chinar trees turn different hues of gold during this time of the year.  During this time weather is not freezing cold but it's always a good idea to carry woollen clothes with you if you are coming from warmer climate and are not used to the cold evenings.
Winters?: From the months of November to February, expect low temperatures of 0°C and below zero too. High temperatures don't often go beyond 15°C. Kashmir is freezing during winters so I will recommend, you must embrace the concept of layered clothes. This is the best time to visit Kashmir for snowfall as well for skiing and snowboarding. Entire snow-clad Pir Panjal range makes winter the best time to visit Kashmir for honeymooners. During this season also, thousands of tourists come here to enjoy snowfall in Gulmarg, Sonamarg, and Srinagar.
If you are nature lover then summer months from April to June is a good time to explore Kashmir but if you like winters then December to February is a good time to visit. During summers you will see blooming flowers but during winters you will see lots of snow which will stun you. Actually the best time to visit depends on what you would like to do and see there, so only you have to decide which month is best for you trip to Kashmir.
On this Valentine's Day you must gift? a Bollywood style surprise trip exclusively to your partner in romantic valleys of Kashmir! I am sure your partner will definitely love this new punch of romance❤️!
If you're heading up this way, feel free to message us on Instagram or even via e-mail to ask any questions about anything in Kashmir.